As you journey along the stretch of highway that leads from Columbus, Ohio to Hocking Hills State Park, the scenery begins to change. Billboards and buildings fall away, replaced by rolling fields and eventually, a towering forest that seems to stretch on forever. 
I visited the park in early January, when the wintery stillness highlighted the otherworldly serenity of the region. However, Hocking Hills is worth a trip in any season. Whether planning a summer vacation or an autumn excursion, you're sure to find your perfect escape in the Ohio wilderness.
Table of Contents
Fossils & History
Nature & Wildlife
Outdoor Recreation
Day Trips & Nearby Activities
Accommodations
Food & Drink
Weekend Itinerary for Hocking Hills, Ohio
Fossils & History at Hocking Hills State Park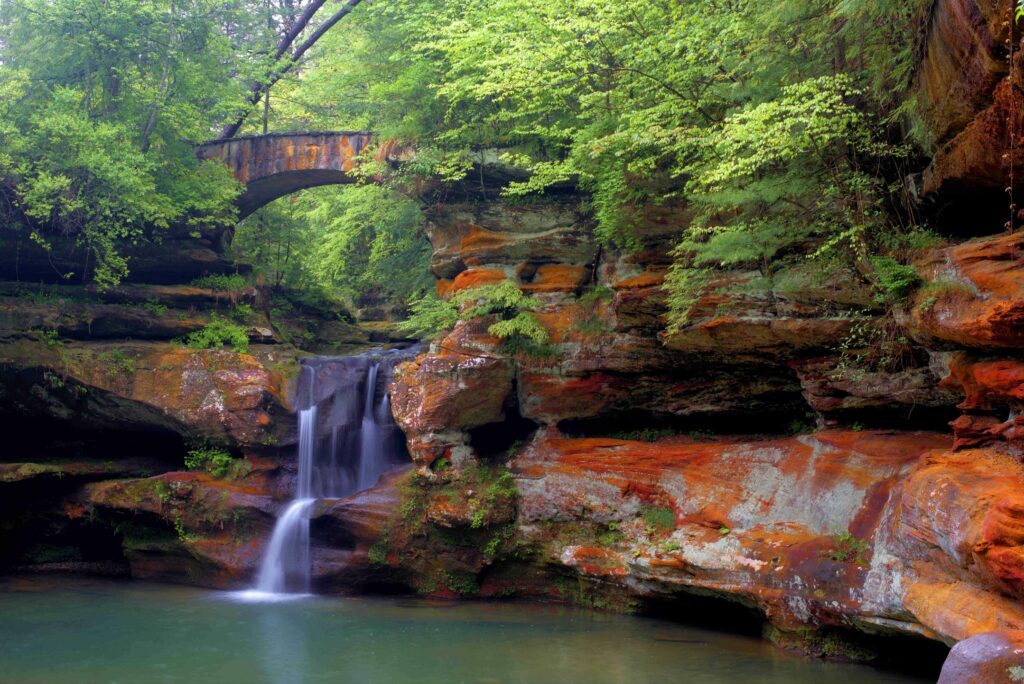 Over 200 million years ago, an ancient ocean occupied the land that is now Hocking Hills. Sharp-eyed visitors can still spot marine life fossils high above sea level, embedded in the park's characteristic black hand sandstone rock formations left behind as the water receded.
In the millions of years that followed, the region was home to many, including the people of the Adena culture, responsible for the incredible mounds built throughout Ohio, and the Wyandot people, who's name for the river flowing through the region—hockhocking—inspired the name for the park. Hocking Hills State Park is established on the lands of the Shawnee, Delaware, and Wyandot people. 
In 1924, the State of Ohio purchased the first 146 acres of what would become modern day Hocking Hills State Park. Visitation rose throughout the 20th century, resulting in the over 3 million annual visitors that enjoy the park today.
Nature & Wildlife in Hocking Hills State Park
The 2,000 acres of Hocking Hills State Park are teeming with wildlife. Drive slowly down the park's winding roads and you're sure to catch a glimpse of a white-tailed deer returning your gaze from the edges of the forest. Listen to the hoots of barred owls as you hike the trails and keep your eyes peeled for the bright yellow chest of a Magnolia Warbler. 
There are a few residents of the park you won't want to run into up close, however. Black bears and bobcats both call Hocking Hills home, although spotting the former has become rare in recent decades due to overhunting. 
Outdoor Recreation
Notable Trails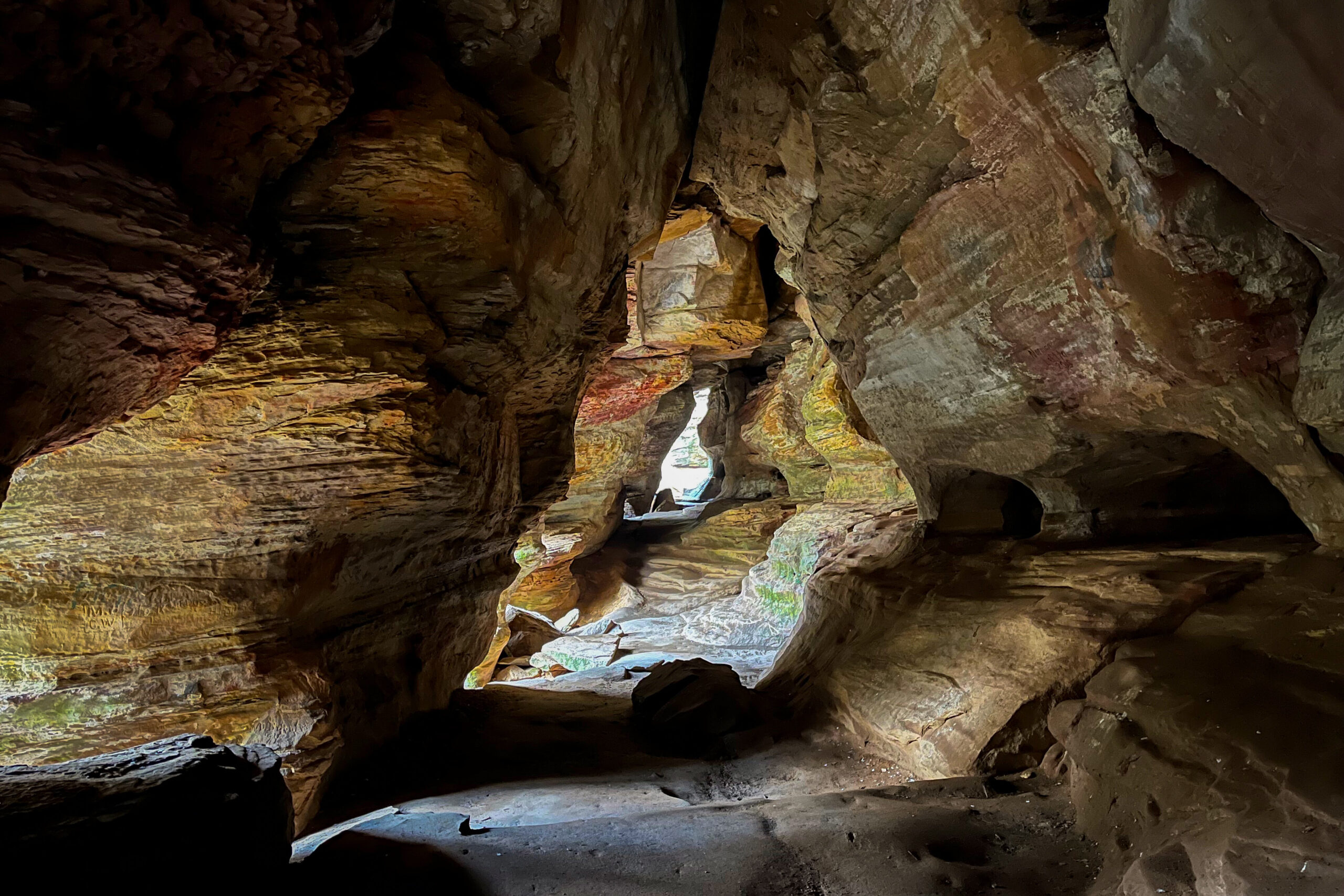 Each of the seven main trails in Hocking Hills has its own unique history and landscape. 
Guided Hikes and Climbs
Sign up for a guided excursion to get the most out of the region. 
High Rock Adventures
High Rock Adventures offers rappelling, rock climbing, EcoTours, and nature therapy tours in Hocking Hills. The adventure guides are knowledgeable and well-trained, facilitating a smooth experience for even the most anxious of hikers.
Touch the Earth Adventures
Touch the Earth Adventures, founded by Mimi Morrison in 1984, is a guide service dedicated to reconnecting guests with nature. Participants are encouraged to take a break from a society that is, according to Mimi, "focused on fast and forward." The company's day- or weekend-long programs are a whole mind-and-body experience, with itineraries including moonlight kayaking, poetry reading, beaver-watching, hiking, and mindfulness exercises. Find details on upcoming retreats here.
Canoeing and Kayaking
Get out on the water and explore with one of the many canoeing and kayaking tours available throughout Hocking Hills. Popular paddling areas include the Hocking River, Lake Logan, and Lake Hope.
Stargaze at John Glenn Astronomy Park
The John Glenn Astronomy park, named after the first American astronaut to orbit earth, invites visitors to take advantage of the park's lack of light pollution to experience the wonders of the night sky. Visit to simply gaze at the uninterrupted view of the stars or participate in one of their pre-planned programs, from constellation spotting to viewings of the full moon. Make sure to take advantage of their telescope for a better look! 
Days Trips & Nearby Activities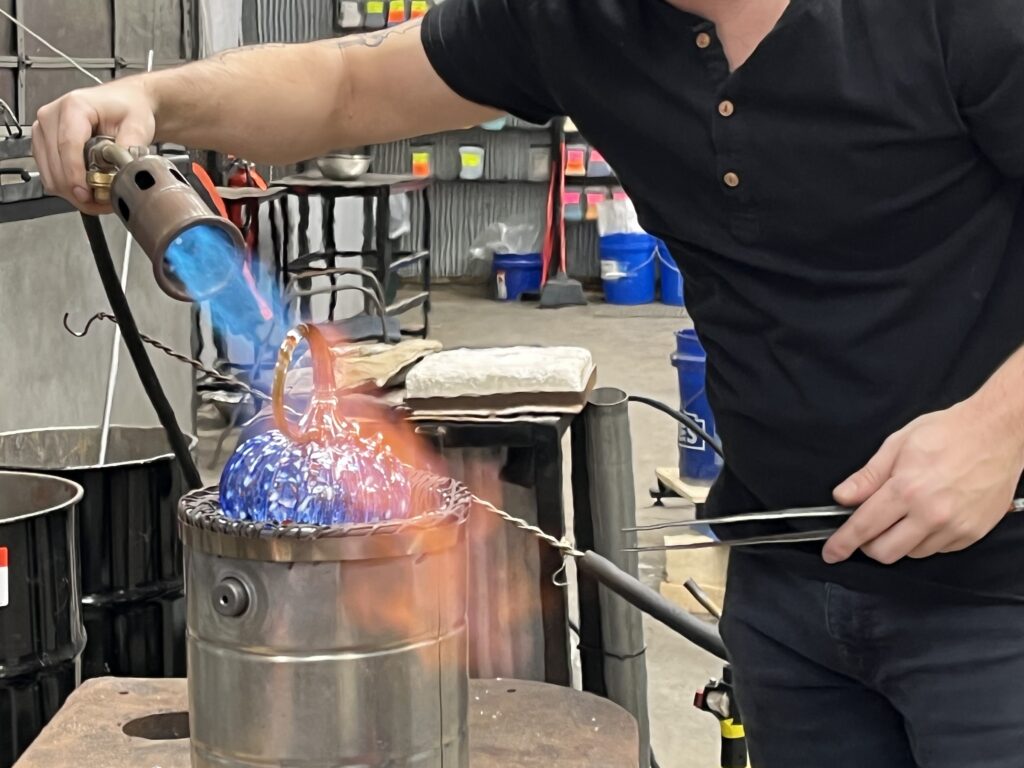 Hocking Hills Orchard
Derek Mills, founder and owner of Hocking Hills Orchard and long-time apple enthusiast, invites guests to explore the more than 1,700 varieties of apples grown on his property. Sample one of his three varieties that taste eerily like bananas or marvel at an Arkansas Black apple, named for its deep purple-red skin. A true expert, Derek is always ready to fill guests in on the history of everyone's favorite fruit, from the location of the first apples in America (Roxbury, Massachusetts) to George Washington's favorite variety (the Newton Pippin).
Peak picking times are the second and third week of September. 
Glass Blowing at Jack Pine Studios
Get in touch with your inner artist with a glass blowing class at Jack Pine Studios in nearby Logan, Ohio. Participants are guided through every step of the process, from heating the molten glass in the forge to shaping the final details. The studio offers group sessions starting at $49 per person and private lessons starting at $195.
Moonshine Tasting
For travelers bored of typical wine tastings, try a sampler of moonshine at Hocking Hills Moonshine. This distillery offers unique flavors such as peach tea, granny apple, and blackberry. Hardcore enthusiasts can try a shot of Buckeye Thunder, a 151 proof Hocking Hills original—just make sure you have a designated driver to corral the group back to the hotel afterwards.
Hit the Golf Course
Hocking Hills Golf Club in Logan is just a short drive from the park. Play a round while enjoying the beautiful scenery, then hit the Pro Shop or the course's onsite restaurant, The Urban Grille,  for lunch.
Accommodations
Hotels in the Park
There are dozens of accommodations within Hocking Hills, from glampgrounds to log cabins to classic bed and breakfasts. Browse through the entire catalog here. In the meantime, here are some standout options to start your search. 
Inn & Spa at Cedar Falls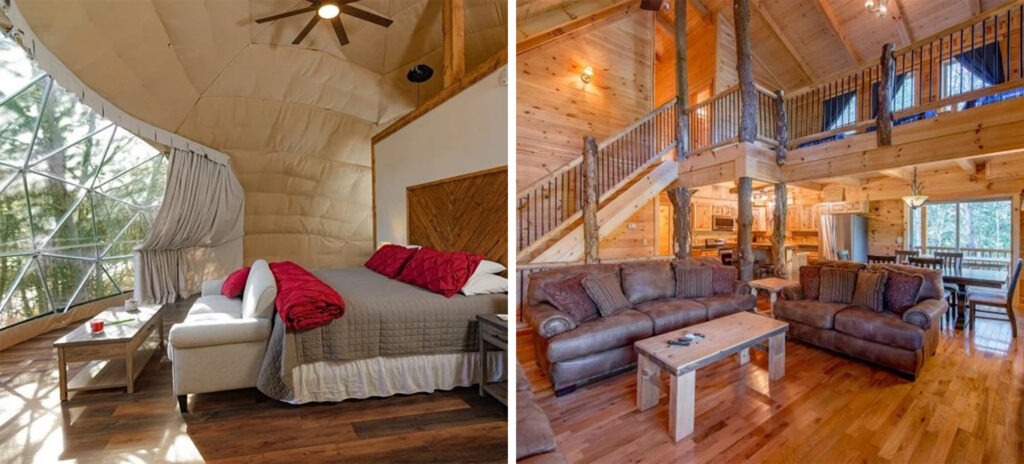 The Inn & Spa at Cedar Falls is a quiet escape from the outside world. The decentralized layout of  individual cabins, cottages, yurts, and geodomes will leave guests feeling like they're camping alone in the woods. However, the luxury of the hotel's on-site spa, restaurant, and gift shop are all within easy reach. Parking is spread throughout the property, so guests do not need to walk to the main building to access their vehicle. 
Magical Earth Retreat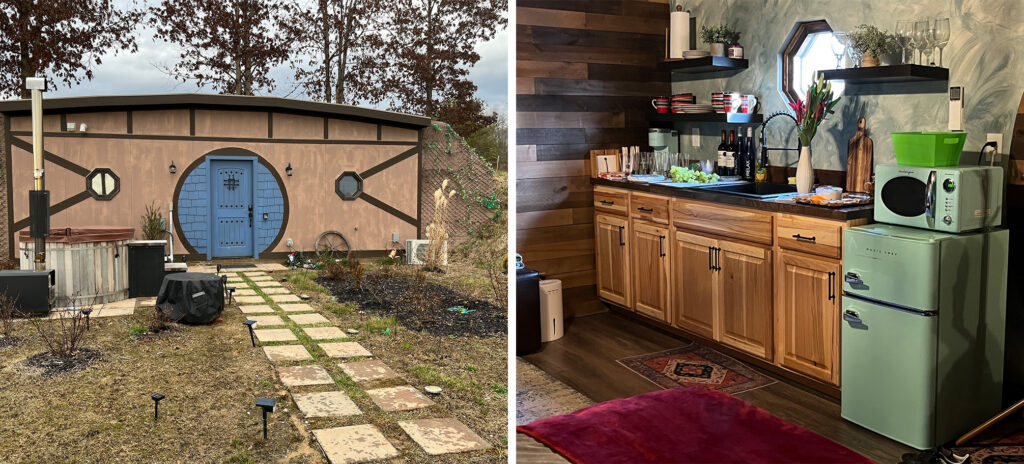 No longer do Lord of the Rings fans have to travel to New Zealand to feel like a part of the adventure. Vacation Shire-style in one of Magical Earth Retreats partially underground rooms, stylized to look like hobbit houses from the famous franchise. Each room features sinks made from reclaimed wine barrels, cozy electric fireplaces, colorful vintage-style kitchenettes, and unique decor.
Shared amenities include an outdoor sauna and communal fire pits dispersed throughout the property. 
Hocking Hills State Park Lodge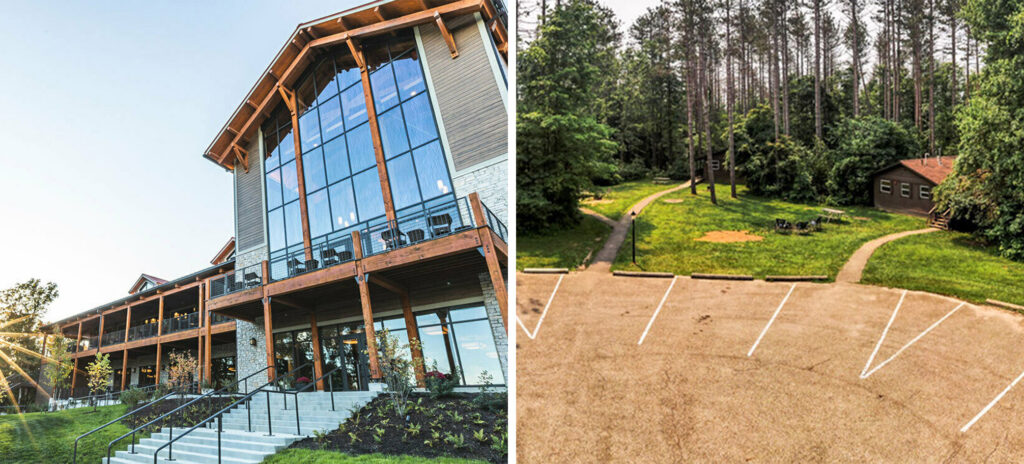 Floor-to-ceiling windows, rustic wooden beams, and roaring fireplaces greet guests as they enter Hocking Hills State Park Lodge. Rebuilt bigger and better than ever following fires in 2016, the State Park Lodge has 81 guestrooms and 40 free-standing cabins, including pet-friendly cabins. The property has an indoor and outdoor pool, hot tub, fitness center, and restaurant on-site—a much-appreciated convenience after a long day exploring the park.
Food and Drink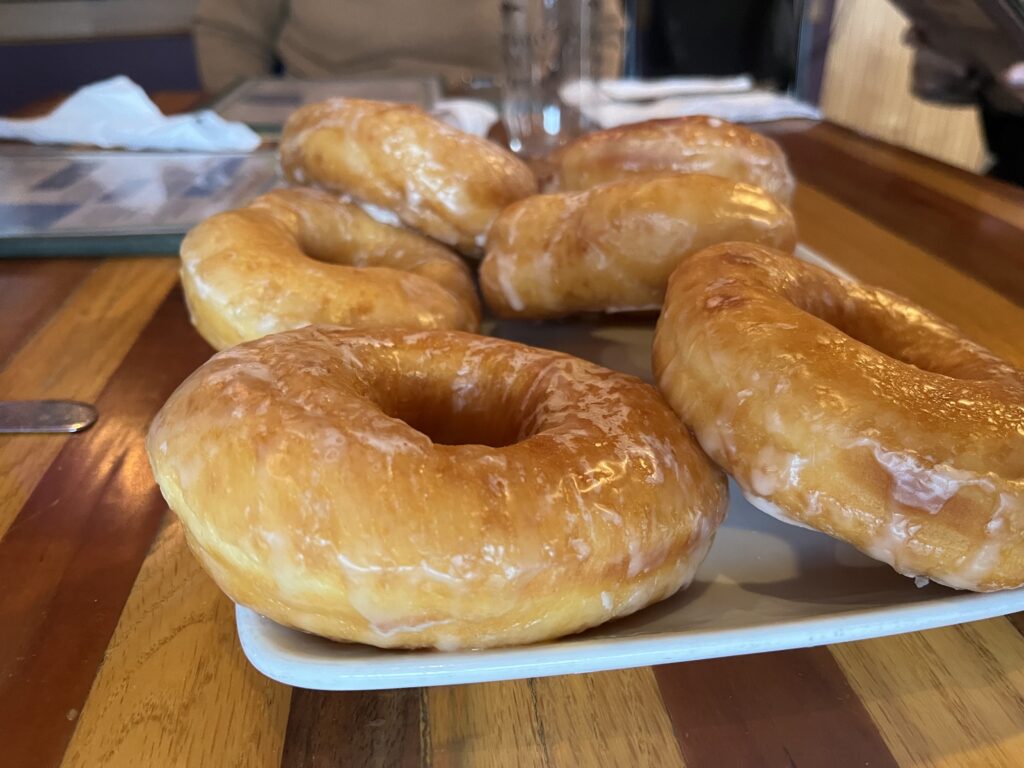 Rock House Restaurant
Enjoy a hearty meal at Rock House Restaurant, located inside the Hocking Hills State Lodge, surrounded by rustic architecture and roaring fireplaces. 
The Ridge Inn
The Ridge Inn is located in nearby Laurelville, Ohio. While the restaurant is open for breakfast, lunch, and dinner, locals know it best for Jo's Famous Donuts, made fresh and sold first-come, first-serve on Fridays, Saturdays, and Sundays. 
Kindred Spirits Restaurant
Kindred Spirits Restaurant, located at The Inn & Spa at Cedar Falls, serves up gourmet dishes for breakfast, lunch, and dinner. Enjoy a cocktail or coffee by the sitting room fireplace before heading into the spacious dining area, both located inside the property's original 19th century log cabins. 
Hocking Hills Winery
Unwind after a day of hiking with a sampler flight of wine and a charcuterie board at Hocking Hills Winery. Try one of their Wine Slushies in flavors like pink lemonade and sangria for a fun summer treat. 
Weekend Itinerary for Hocking Hills, Ohio
Friday
Saturday
Sunday
Editor's Note: The author was hosted by Hocking Hills Tourism Association.
We hand-pick everything we recommend and select items through testing and reviews. Some products are sent to us free of charge with no incentive to offer a favorable review. We offer our unbiased opinions and do not accept compensation to review products. All items are in stock and prices are accurate at the time of publication. If you buy something through our links, we may earn a commission.