| Risk While in Dubai | Level |
| --- | --- |
| Overall  | Low |
| Transport & Taxis | Medium |
| Terrorism | Medium |
| Natural Disasters | Low |
| Mugging  | Low |
| Pickpockets | Medium |
| Scams  | Low |
| Women Travelers | Low |
| LGBTQ+ Travelers | Medium |
Dubai in the United Arab Emirates (UAE) is a spectacular Middle Eastern city, with soaring skyscrapers, modern architecture, unabashed oil wealth, decked-out hotel rooms, elaborate shopping centers dealing in decadent luxuries, and sprawling beaches. But is it safe to visit?
Generally speaking, Dubai is safe to visit. Person-on-person crime isn't much of a concern to travelers here, due to the fact that Dubai is a heavily monitored city. Violent crime affects tourists only very rarely. Petty crime is more of a concern, especially pickpocketing, scams, and sexual harassment, though weapons are almost never involved. (It's worth noting, however, that Dubai's criminal statistics are difficult to measure because of UAE's refusal to make its crime data public.)
Ironically, though, it's Dubai's extremely strict rules and ruthless law enforcement that pose the biggest threat to Western visitors who aren't accustomed to being restricted by laws as conservative as UAE's. Things that are illegal in Dubai include displays of public affection (especially between unmarried or homosexual partners), drunken behavior, dressing immodestly, swearing, making rude gestures, photographing people without their permission, having Israeli citizenship, criticizing UAE's government, fundraising for charity, soliciting escorts in Dubai, and much more.
Those who are merely fined for these types of transgressions are the lucky ones—travelers have been arrested, jailed, or otherwise detained for as little as kissing in a restaurant.
In addition to petty crime and strict rules and punishments, the other warnings that travelers to Dubai should be aware of include the risk of terrorism and the extreme desert heat. Read on to find out what you should do to steer clear of dangers in Dubai.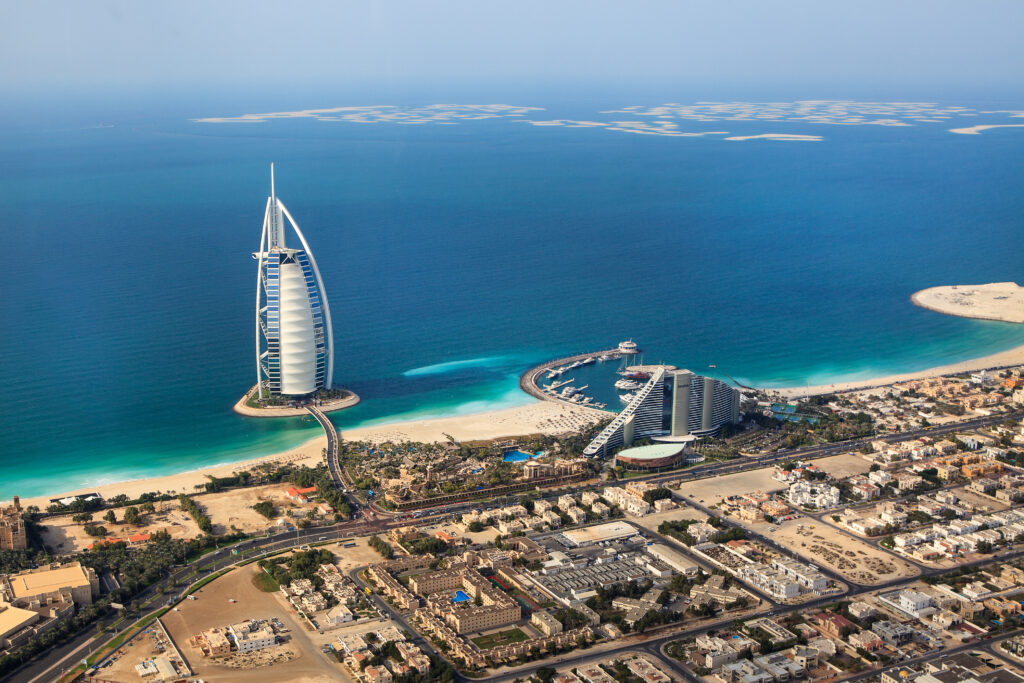 Tips for Staying Safe in Dubai
Know the rules and follow them. This point can't be overemphasized enough in Dubai, as UAE's laws are much more conservative than those of any Western country. In Dubai, it's not uncommon for tourists to be jailed or otherwise detained for doing something that's completely legal and normal back in their home country.
There aren't too many neighborhoods that are unsafe in Dubai, but it's smart to stay alert for the city's typical dangers—pickpockets, dangerous drivers, the risk of terrorism, and extreme heat.
If you're a woman planning on traveling to Dubai, pack clothing that's conservative and modest to ward off harassment, as well as to show respect for local customs. Female tourists should also follow specific safety guidelines, as outlined below.
Safe Places—and Places to Avoid—in Dubai
If you're traveling to Dubai, you should know where to go—and where to avoid. Like most cities, there are safer areas than others. Knowing what spots are considered safe and what aren't is key. 
Safest Places in Dubai
Jemeirah Beach
Jemeirah Beach, is a hugely popular attraction for good reason. This 11-mile-long stretch of beach is gorgeous, and the perfect vacation spot.  But when you're there, stay vigilant for pickpockets, as it's a prime spot for petty thieves who prey on tourists. Do not leave any valuables unattended on any of Dubai's beaches, even for a moment.
Motor City
Dubai locals rated Motor City as "the best community to live in," in part because of its safety. They also think highly of the Greens, as well as Emirates Living, Oud Metha, Jumeirah and Umm Suqeim, Discovery Gardens, Silicon Oasis, and Dubai Sports City.
Mall of the Emirates
If you're looking for safe, mostly crime-free places to visit in Dubai, check out the Mall of the Emirates on Sheikh Zayed Road and its famous indoor ski slopes. There's also Dubai's Old Quarter, as well as Green Plane, a domed tropical ecosystem—these popular attractions are closely monitored and protected, resulting in almost no crime at all.
Places to Avoid in Dubai
Sonapur
You should not go to Sonapur, the migrant work camp on the outskirts of Dubai where hundreds of thousands of South Asian laborers try to survive the heat and exploitation in slave-like conditions. The abject poverty here, though it shouldn't be ignored, makes Sonapur a dangerous place for tourists to visit. In addition, the neighborhoods of Deira and Bur Dubai, with their seedy hotels and backstreets, are known for being Dubai's hubs of prostitution and other shady goings-on.
Dubailand
Locals aren't as fond of far-flung Dubailand, which is still mostly under construction. Other areas to avoid, if possible, include the grimy Naif Street Bus Terminal at night (especially if you're female), as well as workaday Shindagha. And if you're planning to visit a souk, be on high alert for pickpockets.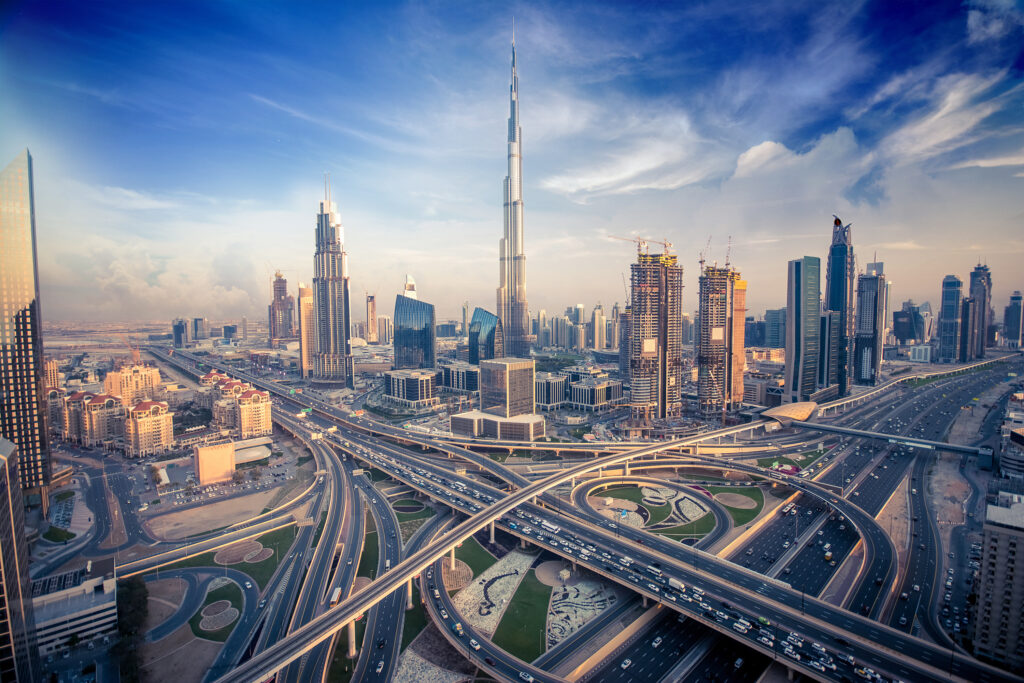 How to Get Around Safely in Dubai
As mentioned above, violent crime is not the thing to fear in Dubai. Driving, however, is another story. Dubai's rate of traffic accidents is much higher than in the West, and the World Health Organization reports that if you're on the road in UAE, you're almost seven times more likely to be killed than if you're on the road in England. This high rate of road deaths exists in part because speeding is very common. Try to avoid being in a car, or even a pedestrian near cars. If you must cross a road, make sure to use designated pedestrian crossings—failure to do so can lead to prosecution—but keep in mind that cars in Dubai will often fail to stop at marked pedestrian crossings.
Dubai's public transportation system, by contrast, is mostly safe and reliable, although it's important to take precautions against pickpockets on buses. Taxis and ride-sharing services are also safe, for the most part. If you get in a cab, however, make sure the driver's name and identification number are posted in the back—in case anything happens, take this information down and be ready to give it to the police. Use only licensed taxis or other recognized forms of public transport, and never accept rides from strangers.
Dubai ATM Scam Warning
One additional warning to keep in mind when visiting Dubai is that criminals have been known to attach skimming devices to public ATM machines to steal both data and money. Wherever you are in UAE, make sure to use only ATMs that are located inside banks or well-known hotels. Keep in mind ATM scamming is common almost everywhere. 
Traveler Behavior and The Law in Dubai
Your biggest risk when trying to stay safe in Dubai is not knowing or following the Sharia-inspired laws—this has landed uninformed travelers in prison, with no way to get home. Read up on Dubai's rigid rules, which forbid drinking wine, crude language, aggressive gestures, taking someone's picture without asking, taking photos of government buildings, possessing certain prescription medications, kissing in public, homosexuality, and a long list of other behavioral restrictions.
Women Travelers in Dubai
It's often more complicated to travel when you're a woman, and that can be truer in Dubai than in other places. Though it's generally safe for women to visit Dubai, even alone, female travelers should dress conservatively, stay in groups or pairs (especially after dark), avoid making eye contact with men, and avoid bars, clubs, or hotels where prostitutes may operate. 
Unaccompanied women are likely to get propositioned or harassed, especially in Dubai's prostitute-heavy neighborhoods of Deira and Bur Dubai.
Multiple government sources advise women in Dubai to never accept drinks from strangers and to never leave a drink unattended, as criminals may spike women's drinks with drugs or stronger alcohol, with the intention of rape, robbing, or kidnapping. Keep in mind, however, that Dubai's authorities are not always your friend: Western women travelers who have reported being raped in Dubai have been jailed and detained for having extramarital sex.
Instead of walking, female visitors to Dubai should use a reputable taxi company, particularly at night. Note that the cabs with pink roofs are reserved for female drivers and female passengers only—if you get a male cab driver, sit in the back seat. If you take public transit, sit in the women's section toward the front.
Avoid wearing clothing that exposes your shoulders or knees. While women are not required to cover their heads at all times, it is advised that you carry a headscarf with you in case you want to visit a mosque, where it is required. Lightweight clothing that covers at least your shoulders and knees is your best bet while visiting. If you are at a pool or beach, bikinis are acceptable to wear, just do not wear them outside of the swimming area. 
LGBTQ+ Travelers in Dubai
Homosexuality is a crime in the UAE. Any acts of intimacy—no matter how small they may seem—are forbidden. Any LGBTQ+ couples should avoid showing any affection (including holding  hands) in public if they are in Dubai. While International Lesbian, Gay, Bisexual, Trans and Intersex Association (ILGA) reports that only 21 people in the UAE were prosecuted for "offending public morals" between 2004 and 2021, it is still a good idea to refrain from any acts of intimacy while visiting.
Natural Disaster Risks in Dubai
Another thing to keep in mind when visiting Dubai is that it's a destination that experiences extreme heat, with temperatures that can exceed 122° Fahrenheit, especially between May and September. When visiting Dubai, stay out of the intense sun as much as possible, drink lots of water, and make sure you've got appropriate amounts of SPF, in the form of sunscreen, sunglasses, and hats. Otherwise, you run a real risk of heat stroke or exhaustion.
Other nature-related risks in Dubai include sandstorms, severe thunderstorms, as well as water rip currents, which have swept swimmers out to sea—pay attention to warning signs like literal red flags, and only swim at approved beaches.
Terrorism Threat in Dubai
As for terrorism, it's a real possibility here. Recently, missiles from Yemen over and into Dubai have been intercepted, though there have been some casualties. The U.S. Department of State considers Dubai to be a medium-risk threat location for terrorist activity directed at Americans and other Westerners. UAE's proximity to countries that are hostile to Westerners, and its importance as a major travel destination, contribute to the possibility of a terrorist attack against Westerners in Dubai. Britain's government, for its part, considers Dubai and the UAE "to be in a heightened state of risk for terrorist activity just by virtue of being in the Gulf region."
If you choose to visit places that are crowded with Westerners, including restaurants, hotels, beaches, and shopping centers, the U.K. government advises that "you should maintain a high level of security awareness." The U.S. State Department agrees, adding, "Americans should maintain a low profile, vary routes and times for all required travel, and treat mail and packages from unfamiliar sources with caution."
If you need to call the police or emergency responders in Dubai for any reason, the numbers vary based on the situation: In case of fire, dial 997; to report a crime, call 998; and for emergency medical services, dial 999 and immediately ask for an English-speaking operator.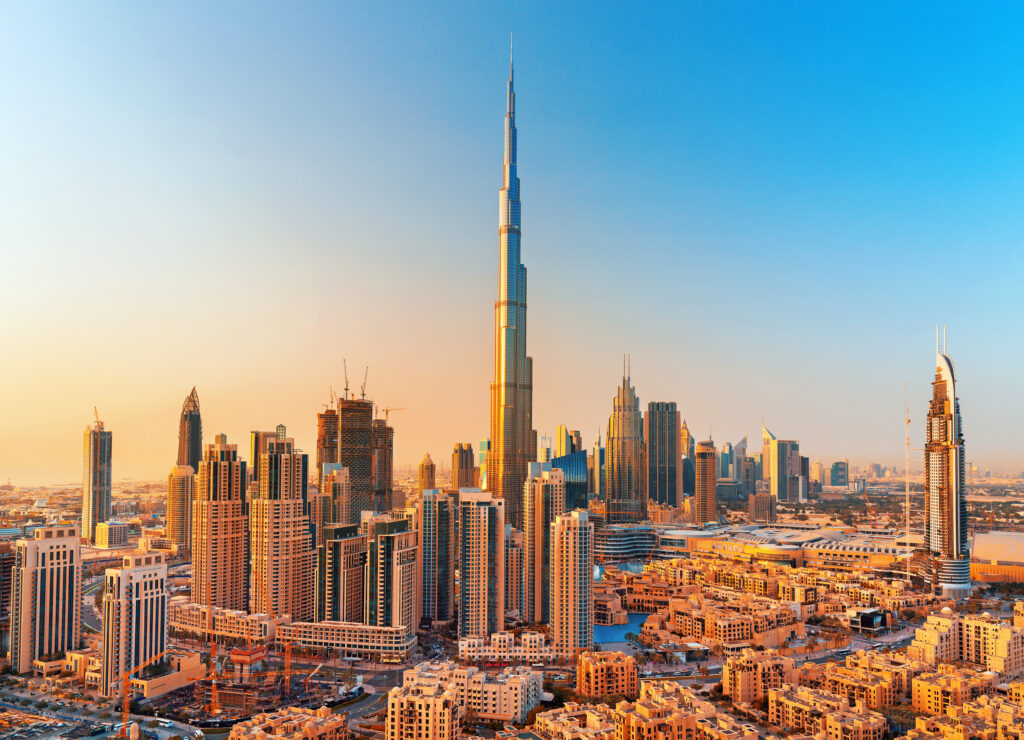 FAQ About Visiting Dubai
Why Shouldn't You Go to Dubai?
Other than abiding by local laws, and perhaps moral reasons, there is no reason not to go to Dubai, as it is safe as long as you follow the rules. 
Can You Kiss in Public in Dubai?
It is not socially acceptable to kiss in public places in Dubai. 
Is Dubai Safer Than America?
The crime rate in Dubai is lower than in America. However, the threat of terrorism is high. 
Can You Wear Short Clothing in Dubai?
You should avoid clothing that exposes your shoulders (and in some cases, your arms), and knees. Both men and women should avoid tight-fitting clothing. 
Can Unmarried Couples Go to Dubai?
Yes, but get separate hotel rooms. 
We hand-pick everything we recommend and select items through testing and reviews. Some products are sent to us free of charge with no incentive to offer a favorable review. We offer our unbiased opinions and do not accept compensation to review products. All items are in stock and prices are accurate at the time of publication. If you buy something through our links, we may earn a commission.